Invest in Liquidity Providing market-neutral protocol
Earn 20% APR in stablecoins!
Monthly withdrawals
Claim your stable yield on the 7th day of every month, no matter how market is doing
Compound available
You may to choose to get monthly yield or increase your deposit with montly compound interest
On-Chain
No humans involved. All operations are handled by blockchain. This is a safest offer possible
Join to $5B market of yield farming!
Why so much?
Trading volume on Uniswap v3 remains high, allowing us to earn rewards with LP-staking
Any guarantees?
Diversified portfolio of top traded tokens is secured by constantly updating hedge positions
What are the terms?
Minimum investment amount is $10,000. Deposit withdrawal is available upon request with next months yield
Open application
Grow your deposit during the bear
market in 3 simple steps!
Step 1
Deposit your initial capital and get first rewards
Step 2
Grow you investments each months to utilize the compound interest benefits
Step 3
Use our affiliate program to leverage your income with recurring rewards
Step 1
Deposit your initial capital and get first rewards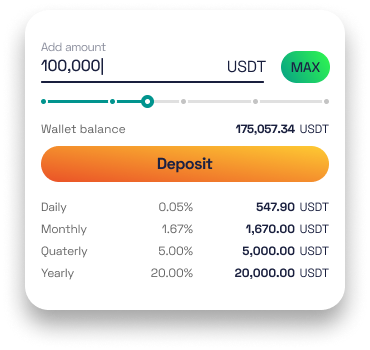 Step 2
Grow you investments each months to utilize the compound interest benefits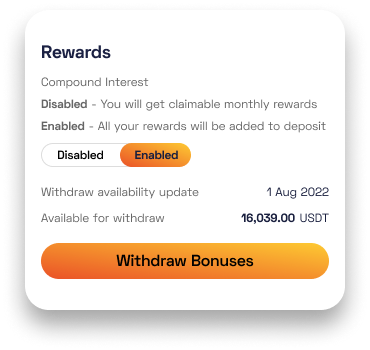 Step 3
Use our affiliate program to leverage your income with recurring rewards